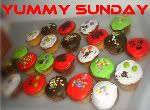 It's Yummy Sunday again and my entry for this week is ADOBO!! Yup I made adobo here in US of A. Well first off, why I am so happy to cooked this one because I found an Oriental store who sells fish and pork meat that has skin and fast with it. The same as we could buy in the Phillippines which we call it best as Liempo. And believe it or not for just a small slab of belly meat it cost almost $10 but I was very happy to see it since in the regular store they took off the fat and skin which we Filipinos love to have it in our pork meat. So this week I cook my first adobo and oh gush was I so happy hehehehe. Here is the picture!
the liempo
I cooked it the dry way seasoned it with salt only.

Here is my adobo!! Yum yum!

For more Yummy Sunday visit it
HERE