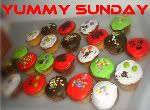 Click the badge for more yummy sunday entry
Yummy Sunday again and I am so excited to show my ginataang talong with bagoong and pork. This morning I was craving for veggies and coconut milk and to get it I have to cook something that this two can go together. So I looked at the panty and found out that I have a small can of coconut milk, thawed meat, sliced my eggplant and chopped garlic and onion. But here is the picture I'd like to show.

Ingredients:

garlic, minced

onion, chopped

eggplant, chopped

pork (optional) chopped

2 tbsp bagoong

1 small can coconut milk

Procedure:

1. Let the pork brown first in a pan. Take it out from the pan and remain a little oil in the pan for sauteing.

2. Saute the onion first then garlic.

3. Mix the brown pork and stir.

4. Then put the eggplant then put the coconut milk. Cover it and adjust the heat to low-medium.

5. When the eggplant is tender and it is boiling put the bagoong.

6. Season with pepper and a little salt if you like since bagoong is already salty.

So there that is all done simple as that!