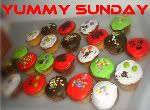 Okay guys and gals here in blogosphere I am back!! With the Thanksgiving holiday is done...it is time to share some of my foodah.
Was not able to take the picture of the whole Turkey I was so busy preparing some of the dish but here is the cut pieces. Mine is good, why, because it taste like lechon manok in the Philippines. Stuff it with lemon, spring onions, and garlic and seasoned it with my secret power hehe! I really don't like turkey but with my way of cooking it I love it! hehe!

Creamed carrots and peas

Seafood with white sauce

French bean casserole

Stuffing~~ my own recipe actually hehe

Sweet potatoes and apple

Chili Beans usually this is not for Thanksgiving day food but hubby asked me to cook this one so I did!

Leche Flan

Maja Blanca

Had more desserts like caramel apple pies, pumpkin pies, baklava but we all just bought it in the store.

For more recipes of the week visit Here Yummy Sunday!